Interview with Professor Jean d'Aspremont
On March 30th, 2016, Professor Jean d'Aspremont came to the McGill Faculty of Law to discuss his upcoming book on the mysticism of international legal argumentation, in a lecture presented by Inter Gentes and by the Hans & Tamar Oppenheimer Chair in Public International Law. Prior to the lecture, Professor d'Aspremont spoke with Isabelle Jacovella Rémillard about the book.
You can listen to the full lecture here.
Production and music by Tobin Lippold.
Photo credit by Slava Gerj.
Guest Bio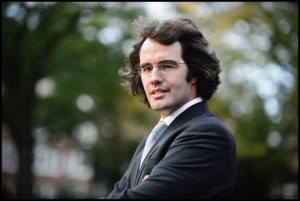 Jean d'Aspremont is Professor of Public International Law at the University of Manchester where he founded the Manchester International Law Centre (MILC) with Professor Iain Scobbie. He is General Editor of the Cambridge Series in International and Comparative Law and director of the Oxford Database on International Organizations. He is a member of the Scientific Advisory Board of the European Journal of International Law. He is series editor of the Melland Schill Studies in International Law.