Resistance and International Law; De-coloniality and Pluritopic Hermeneutics
By Pierre-Alexandre Cardinal*
Abstract
    The purpose of this essay will be to engage with the concept of resistance, and to try to map some of the aspects of its relationship with international law. The question that animates the endeavour is that of the capacity of international law to provide sufficient perspective to give a cognizant account of the phenomenon of resistance. My hypothesis is that international law, stemming from European modernity, suffers from irredeemable methodological and epistemic biases that rely on the pre-eminence of the state form in the discipline. Such biases, I argue, produce exclusionary mechanisms inherent to the structure of the discipline, and create distortions of reality along the modern/colonial divide. These distortions enforce a persistent structure or matrix of coloniality that contributes to the ontological negation of the "damné", i.e. the dominated Other who is in a position of resistance. This matrix is defined as a threefold interrelating set of dominations; it includes a coloniality of power, the interrelation of modern forms of direct domination; a coloniality of knowledge, the control of different areas of knowledge production; and a coloniality of Being engendered by the interrelation of the previous two. It creates a situation of resistance that international law, because of its epistemic and methodological biases, cannot rationalize completely because of the resistant's departure from the schemes of knowledge of modernity in which the discipline is rooted, and his willingness to negotiate power and not only completely negate it. This resistance by the dominated Other, I will suggest, is a counter-normative response to the distortions created by the matrix of coloniality in international law.
French Translation
    Cet article s'interroge sur le concept de "résistance" et cherche à mieux comprendre sa relation avec le droit international. La question de savoir si le droit international a la capacité d'apporter une perspective suffisante pour comprendre le concept de résistance est à l'origine de cette analyse. Mon hypothèse est que le droit international, compte tenu de ses racines dans la modernité européenne, souffre de biais méthodologiques et épistémologiques irréversibles basés sur la prééminence de la forme étatique dans la discipline. J'avance que ces biais produisent des mécanismes d'exclusion inhérents à la discipline, et créent une distorsion de la réalité selon une division moderne / coloniale. Ces distorsions renforcent un structure persistance, ou une matrice de colonialité contribuant à la négation ontologique du "damné", c'est à dire, l'Autre dominé en position de résistance. Cette matrice comprend trois axes qui s'entrecoupent : la colonialité du pouvoir (les différentes formes de domination directe) ; la colonialité du savoir (le contrôle des différents modes de production du savoir) ; et la colonialité de l'Être, engendrée par l'intersection des deux axes précédents. Ceci crée une situation de résistance que le droit international, à cause de ses biais épistémologiques et méthodologiques, ne peut entièrement rationaliser  car le résistant s'écarte des schémas de savoir sur lesquels la disciplines est fondée et est disposé à négocier le pouvoir sans complètement le nier.  Cette résistance de l'Autre dominé, je suggère, est une réponse contre-normative aux distorsions crées par la matrice de colonialité en droit international.
Spanish Translation
     El presente artículo se enfocará en el concepto de resistencia, con el intento de delinear algunos aspectos de la relación entre este concepto y el ámbito del derecho internacional. La pregunta que motiva este trabajo consiste en contemplar la capacidad del derecho internacional de proveer una perspectiva suficientemente informada por el fenómeno de resistencia. Mi hipótesis se basa en que el derecho internacional, que emana de la modernidad europea, sufre una parcialidad metodológica y epistémica, la cual se funda en la preeminencia del estado dentro esta disciplina. Argumento que esta inclinación produce mecanismos excluyentes inherentes a la estructura de la disciplina, y crea distorsiones de la realidad que se suman a la división moderna/colonial. Estas distorsiones refuerzan una matriz de colonialismo persistente que contribuye a la negación ontológica del "damné", es decir, del otro dominado que se encuentra en posición de resistencia. Esta matriz es definida como un conjunto trifásico de dominación; incluye un poder de colonialismo, definido como la interrelación de formas modernas de dominación directa; un colonialismo de conocimiento, entendido como el control de las diferentes áreas de producción del conocimiento; y un colonialismo de "ser" , debido a la interrelación de los anteriores. Esto crea una situación de resistencia que el derecho internacional, debido a su parcialidad epistémica y metodológica, no puede racionalizar completamente gracias a la desviación de los resistentes de los esquemas de conocimiento de la modernidad en los cuales la disciplina encuentra sus fundamentos, así como su predisposición para negociar el poder y no negarlo completamente. Sugeriré que esta resistencia es una respuesta contra normativa a las distorsiones creadas por la matriz del colonialismo en el derecho internacional.
CALIBAN
Prospero, tu es un grand illusionniste : le mensonge, ça te connait.
Et tu m'as tellement menti, menti sur le monde, menti sur moi-même,
que tu as fini par m'imposer une image de moi-même :
Un sous-développé, comme tu dis, un sous-capable,
voilà comment tu m'as obligé à me voir,
et cette image, je la hais! Et elle est fausse!
Mais maintenant, je te connais, vieux cancer, et je me connais aussi!
– Une Tempête, Aimé Césaire, end of Act III, scene V1 Une Tempête, Aimé Césaire, end of Act III, scene V.
I. International law and epistemic biases; the centrality of the state actor
Prospero
Je suis […] le chef d'orchestre d'une vaste partition : cette île.
suscitant les voix, moi seul,
et à mon gré les enchaînant,
organisant hors de la confusion
la seule ligne intelligible.
Sans moi, qui de tout cela
saurait tirer musique?
Sans moi cette île est muette.
– Une Tempête, Aimé Césaire, end of Act III, scene V
II. Resistance and international law; epistemic domination
Prospero
Eh bien moi aussi je te hais!
Car tu es celui par qui pour
la première fois j'ai douté de
moi-même
[…]
Je ne laisserai pas périr mon œuvre…
            Hurlant
Je défenderai la civilisation!
            Il tire dans toutes les directions. 
– Une Tempête, Aimé Césaire, end of Act III, scene V
III. Resistance and immanence; pluritopic hermeneutics
Prospero
Et que ferais-tu tout seul, dans cette île hantée du diable et battue par la tempête?
Caliban
D'abord me débarrasser de toi […] Toi, tes pompes, tes œuvres!
[…] 
Caliban
Ce n'est pas la paix qui m'intéresse, tu le sais bien. C'est d'être libre.
– Une Tempête, Aimé Césaire, end of Act III, scene V
About the Author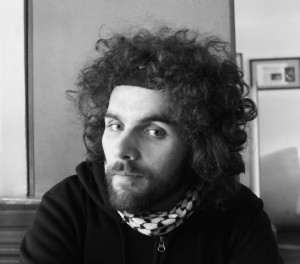 Pierre-Alexandre Cardinal is a graduate from the University of Ottawa in both Social Sciences (Development Studies) and Law (Civil and Common Law). He is currently finishing his Master's thesis at McGill with the supervision of Professor Frédéric Mégret under SSHRC scholarship. He plans to then follow his intuitions in a PhD project next year with a co-supervision between McGill and the National University of Singapore.
His main research interests deal with the field of public international law, decolonial thinking and borderlands theory, Eurocentrism, and non-Eurocentric perspectives on the law. His current projects revolve around the epistemic privilege of Western Modernity in international law, talking from a decolonial angle, but also an animal rights perspective. Following his Master's project and recent publications dealing with the international legal history of Iran and the place of Islamism in international law, his PhD will propose a genealogy of China's relation to international law over the last century. His project will seek to understand how China deals with the eurocentrism of the field, and tackles the limits of Western Modernity.
He derives his inspiration from training for long distance races, running the trails, hiking mountains, sunrise meditations and sun salutations.